Here we see how easy it is to define circles tangential or by peripheral points.
we define objects
then we refere to them
we chose an order, so later drawn objects overwrite earlier drawn objects
The code is a follow-up to the Releux triangle recipe.
It is explained in the LaTeX Cookbook, Chapter 10, Advanced Mathematics, Drawing geometry pictures.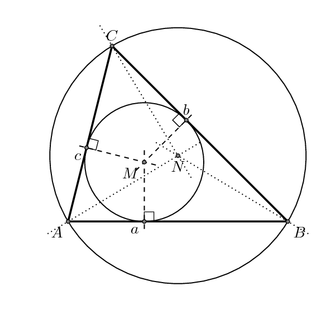 Edit and compile if you like:
% Circles in and around a triangle
% Author: Stefan Kottwitz
% https://www.packtpub.com/hardware-and-creative/latex-cookbook
\documentclass[border=10pt]{standalone}
\usepackage{tkz-euclide}
\begin{document}
\begin{tikzpicture}
  \tkzDefPoints{0/0/A, 5/0/B, 1/4/C}
  \tkzDefCircle[in](A,B,C)
  \tkzGetPoint{M}
  \tkzGetLength{r}
  \tkzDefCircle[circum](A,B,C)
  \tkzGetPoint{N}
  \tkzGetLength{R}
  \tkzDefPointBy[projection=onto A--B](M)
  \tkzGetPoint{a}
  \tkzDefPointBy[projection=onto B--C](M)
  \tkzGetPoint{b}
  \tkzDefPointBy[projection=onto A--C](M)
  \tkzGetPoint{c}

  \tkzDrawCircle[R](M,\r pt)
  \tkzDrawCircle[R](N,\R pt)
  \tkzDrawPolygon[very thick](A,B,C)
  \tkzDrawLines[dotted](N,A N,B N,C)
  \tkzDrawLines[dashed](M,a M,b M,c)
  \tkzMarkRightAngles(M,a,B M,b,C M,c,C)
  \tkzDrawPoints(A,B,C,M,N,a,b,c)
  \tkzLabelPoints[below left](A,M,a,c)
  \tkzLabelPoints[below right](B)
  \tkzLabelPoints[above](C,b)
  \tkzLabelPoints[below](N)
\end{tikzpicture}
\end{document}
Click to download:
triangle-circles.tex
•
triangle-circles.pdf
Open in Overleaf:
triangle-circles.tex